AceSEF - Joomla SEO & SEF URLs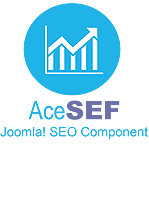 AceSEF
is a flexible and powerful
Joomla SEF URLs, Metadata, Sitemap and Tags generator
with an easy-to-use graphical user interface that simplifies the management of your site's SEO rank.
AceSEF is a robust
Joomla SEO component
that is focused to offer you all what is needed for a hotshot search engine optimization. Supports JoomFish, works with both Apache and IIS and can be easily updated on-line. You can add Open Graph Tags easily for any pages.
AceSEF is more powerful with new features such as Social and SEO statistics and SEO point checker. Also you can learn how to improve your SEO point easily. We have analyzed AceSEF with SonarQube for stabilization.


Key Features
Keywords-rich SEF URLs
Automatic Metadata
Sitemap (HTML & XML)
Tags for all components
Internal Links
Social Bookmarks

 


280 ext. for 3rd party components
100% modular structure
Easy-to-use interface
The fastest SEF solution
On-site automatic updates
Migration from other SEF components

 
Compare Versions
AceSEF - Joomla SEO Suite
Comparison Chart
SEF URLs





Metadata





Joomla 1.5, 2.5, 3.0 and 3.5





Copyright Removed





Sitemap





Tags





Internal Links





Social Bookmarks





SEO Point Check





SEO Point Details





The Open Graph Protocol





Social and SEO Statistics





Google Analytics Dashboard





Access to Video Tutorials





No Support
Normal
Normal
Normal
High