AceSearch - Joomla Search Engine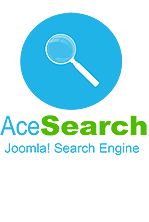 AceSearch is a flexible and powerful Joomla Search component with an easy-to-use user interface that provides searching through all components from front-end and back-end with extra fields.

AceSearch will turn your site into a robust Search Engine by providing relevant search functionality for all your components from one page. Supports Joomla search plugins, offers tons of extra searching fields via extensions and can be easily updated on-line.

AceSearch will not slow down your site because it doesn't index/store the searching records but statistics. The search results are grabbed instantly on-the-fly.

AceSearch is more powerful with new features such as advanced statistic graphics and Custom 'did you mean' keywords.




Key Features
Front-end & Back-end search
Relevant search results
Advanced search with extra fields
Advanced search module
Advanced filters system
Search statistics
Supports search plugins
See the full feature list >>

SCREENSHOTS

Compare Versions
AceSearch - Joomla Search Engine
Comparison Chart
All search functions





Limited Search Statistics





Copyright Removed





Search in back-end





Filters





Advanced Statistics





Custom 'Did you mean'





CSS edit page





No Support
Normal
Normal
Normal
High
Access to Video Tutorials





Useful Links
Testimonials